Padraig Harrington news stories posted by our user community.

Irish golfer Padraig Harrington celebrated with his family yesterday after winning The British Open golf championship for the second year in a row. Padraig's wife Caroline and their two sons Patrick, born in 2003, and Ciáran, eight months, were all at the Royal Birkdale course in Merseyside, UK, yesterday. Padraig, who last year revealed his eldest son put ladybirds in the Claret Trophy, said,
...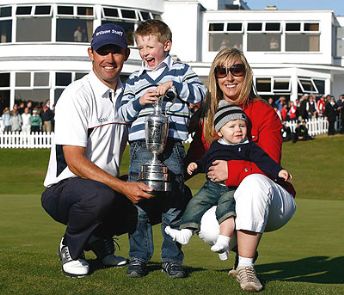 By DOUG FERGUSON, AP Golf Writer

SOUTHPORT, England - Turns out Padraig Harrington`s wrist was strong enough to hit all the right shots in the British Open. Better yet, it was strong enough to lift the silver claret jug.

Harrington became the first European in more than a century to win golf`s oldest championship two years is a row, smashing a pair of fairway metals into the

...