Harry Holm news stories posted by our user community.

Oscar nominee Samantha Morton has for the first time revealed that in spring 2006 she suffered a stroke so debilitating that she was "near to death" and forced to retreat to the shadows for 18 months, for fear of word about her condition affecting her career.

The actress, 30, also tells the new issue of Observer Music Monthly that the paralyzing attack forced her to spend more than

...
Related Links:
Tom Cruise
,
Steven Spielberg
,
Woody Allen
,
Samantha Morton
,
Charlie Creed-Miles
,
Jim Sheridan
,
Harry Holm
,
In America
(2002),
Minority Report
(2002),
Sweet and Lowdown
(1999),
Longford
(2006),
Home
(2006),
Samantha Morton and Charlie Creed-Miles
,
Samantha Morton and Harry Holm
,
Myra Hindley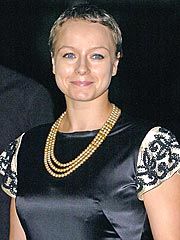 British actress Samantha Morton and her fiancé Brit Harry Holm have welcomed a baby girl, PEOPLE has learned exclusively.

The couple`s daughter, who has not yet been named, was born in an undisclosed London hospital early Jan. 4.

"It is fantastic news and both mom and baby are doing brilliantly," Morton`s publicist, Karon Maskill, tells PEOPLE.

Under English

...